In this interview, we spoke with Una Lee, creative director and Lupe Pérez, lead designer of And Also Too (AAT), a WOC-led design justice studio that designed the Youth Policy Program workbook and policy projects.
While design is certainly about creating beauty, it's also about storytelling and honouring the people whose stories are being told. Our goal was for the final look and feel of the workbook to honour the learning journey of the program and for the policy projects to honour the hard work and deeply personal projects of the participants. AAT truly helped bring these things to life through their approach of centering justice and lived experience of community at the heart of their work.
Read on for Una and Lupe's reflections on what working with LEVEL meant to them and some insight on what went into developing the final visual concept for these pieces.
LEVEL: What does And Also Too do?
Una Lee: We are a design justice studio. We do co-design for liberation.
LEVEL: What does a 'design justice studio' mean?
UL: Design justice is about redistributing power in the design process and working towards a world in which those most impacted by design are at the centre of the process. And Also Too has been a major proponent of the design justice movement.
LEVEL: What did you notice in the design community that made you realize there should be a different way of doing things?
Lupe Pérez: I have so much to say! The design community, and design institutions in general, reproduce a lot of harm, and conveniently look away from that harm. Design education doesn't teach you to work with community, and to look at the role that you have in the design process. They follow a white settler colonial model of design, in which the designer is seen as an expert above community, and community is just an afterthought. Design justice is the antidote to this: it conceives of the designer as more of a facilitator in a listening role, rather than the expert.
LEVEL: From a personal perspective, why is this approach to design—the idea of 'design justice'—so important to you?
UL: From a personal perspective, I would say that this approach honours my lived experience; it honours what I want to see in the world. It's a deeper and more humble way of doing design. We've also seen how doing design in this way has greater impact than doing design in a conventional way.
LP: I have to echo what Una says: the lived experience. We've talked about it in the studio as being a life path. It's not a job. It's a calling. There is home in this work; of being in community. Not just in your own but in other communities: a solidarity with others that have been harmed.
UL: It feels a lot like finding our place where we belong in these larger struggles. As creative people, as introverts, as people who are really passionate about what we want to see in the world, it can be hard to find a place where you can be true to yourself, where you feel like you belong. Through design, we get to be really visionary and imaginary. We get to think about what the world should look like. But then because of the practical nature of what we do, 'we' in the broadest sense get to shape what the world looks like.
LEVEL: What made you most excited about working on this project with LEVEL?
LP: Where do I begin?! It was an amazing project. It has felt like home from beginning to end. When we first heard about the project, it had such a good ring to us because it resembles a lot of the work we've done before with youth organizations that actually centre young people in the process. Even though this project didn't have a co-design component, we knew we were partnering with an organization advocating for young people to be able to advocate for themselves. There was a lot of excitement about that alignment and finding resonance with work that we've done in the past.
LEVEL: Can you describe the process with this project? What was your approach?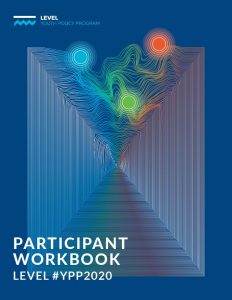 UL: The beginning of the process was not unlike a lot of other graphic design projects where we just gained a really solid understanding of the needs and an understanding of the program and objectives. The first deliverable was the workbook so we knew we needed something that we could apply there and have enough "conceptual meat" to take us through the workbook, policy books, and compendium.
The visual concept [that was eventually selected] showed circular shapes coming in and touching the rigid, hard edges of systems and transforming it. The feedback we received was that there was a desire for more colour so we added 'orbs of light' in different colours so as they're touching the edges of a system, they're radiating the colour in the same way they're transforming the hard edges to soft shapes.
Then we waited for the policy text to come in and that was very exciting to receive it. We had no idea what to expect: the depth and breadth and the deep intersections of the thinking the young people had. They were writing about things important to them personally, but they were also considering implications of what it meant to be an immigrant settler on this land, for example. We learned a lot. Where the process got super exciting was working with Yaimel and semillites to conceptualize the covers, go back and forth about the content, and go deep and provide feedback that would strengthen the concepts. Then seeing the young people holding their books during the presentations was so special to us.
LEVEL: What about the project are you most proud of?
LP: The relationship we built with the youth and the artists. Even though we didn't get to engage in co-design with the young people, we still felt close to them because of the way they let us into their worlds, into their projects.
UL: That's so true! When we finish a project, we're proud of the design work and visual work and then we set it aside and move on to the next thing but what we carry forward is that we got to work with these really cool people, shape change together, and learn some things we didn't know before.
LEVEL: And do you have any final takeaways or reflections?
UL: I really hope that the young people and whoever reads these books get a sense of all the care that went into the program as a whole. Everything had to shift and reorganize due to the pandemic and it was pretty incredible that the young people were able to complete their projects despite the circumstances. We were only one part of a much larger puzzle in which deep care went into every piece.