This year, we worked with two illustrators to collaborate on creating unique cover pages for each of the policy projects. Each participant shared so many parts of themselves to develop projects that would reflect their worldviews, their communities, and their lived experiences. It's a vulnerable process and we wanted to recognize their efforts by working with artists who could capture the uniqueness and beauty of their work.
In this interview, we (virtually) sat down with one of the illustrators, semillites Velasco, who describes themselves as a trans non-binary, Brown artist. They shared with us their approach to creating the cover pages and what role art plays in representation and storytelling.
LEVEL: Tell us about yourself and your artwork.
sv: I am a trans non-binary, Brown artist. I do everything from screen printing to illustrations and graphic design but what inspires me the most is drawing right now. I grew up in Mexico City. My ancestors are campesinos, which means peasant farmers from central Mexico. A lot of my artwork is inspired by that. The land, the growing, the harmony, and the values my ancestors had like hard work, solidarity, and working in a collective. I try to bring those values into my artwork in whatever I do; I try to bring that to the table through visual language.
LEVEL: Can you describe your approach to your drawings?
sv: I would describe my artwork as imperfect, brown, and colourful. For me, the most important thing is to move away from the European way of creating art. My main goal is bringing in things that are incomplete or imperfect that still give a message but don't look for that perfection.
I value colours a lot. I always try to give a lot of meeting through colours. And as I was saying: brown is also an element I try to bring into my characters. Setting skin tones is very important to me. Putting Brown and Black characters as the main focus of my creation is very, very important.
LEVEL: Why is art important to you?
sv: I think art is just another tool, another language, just like as any language we have. And with visual language, we get to tell so many things in many different ways. There's no one meaning. To be able to create something, to connect with people through whatever their experiences have been is very important. I think art is just another tool of communicating to people and creating representation. As a trans non-binary, Brown person, creating art and representing my people and the people that look like me is very important.
LEVEL: Why did you decide to work with LEVEL? What made you excited about the policy program and the participants?
sv: When I was contacted about this project, I was so excited to hear about youth policies. I had also met some of the people who participated in YPP. That made me even more excited to know that so many people around my age with different intersections of race, sexuality, and gender were creating these amazing recommendations that made me super excited because that's what I aspire to give them: the tool to say whatever they want to say. To be able to collaborate with them was an opportunity I couldn't deny.
Some of the participants and projects touched me in a personal way. The immigration for queer and trans people of colour—that one was something that directly impacts me. Overall, as an immigrant, I think I also understood where they were coming from. For me, the most precious ones were also the ones that were talking about Indigenous sovereignty. That's something I want to keep practicing in my values and to be aware of the impact that I create here in the unceded lands of the Musqueam, Tsleil-Waututh, and Squamish peoples. The intersections of all these things is what made me most connected to it.
LEVEL: Can you describe your process in how you created the project cover illustrations?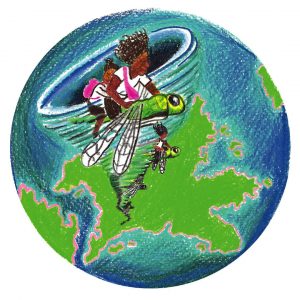 sv: We did a random selection on [which illustrator] got which topics. It was amazing we did it that way because I wasn't familiar with certain topics but that made me step out of my comfort zone and do research and represent stories that I hadn't represented before. The main thing about my process was the research, which included watching documentaries, looking outside, talking with people to connect with every topic as much as I could. The research part was where my main focus was – to make sure I could know as much as I could about the participants and what their ideas were. Their context was very important to incorporate in the illustrations. I then put a lot of hours into each drawing and it came straight from my heart to do this.
With these illustrations, I don't have a favourite but I certainly had to come up with a story with each of them. And with some of them—like Adriana's proposal on climate migrants—that was the first one I started work on. I remember doing research on animals or bugs that immigrated from all over Turtle Island. I found that that there's this specific dragonfly called the green darner that flies from south to north. Throughout the year, the dragonfly makes stops in certain places. They die in certain places and generations that come after take the next trip and that's how they get to the north—intergenerational migration. I tried explaining this to the team and they really liked this idea.
LEVEL: What was the experience like doing illustrations for the participants' project covers?
sv: I was very nervous about my approach but when they accepted and connected with it, it was rewarding and special. It wasn't just special to me but also special to them. Seeing how they reacted to it, it was something that was beyond this world.
I want to say thank you to LEVEL and the participants for all the amazing work that everyone is doing. It was a pleasure to try to convey their words into images. It was really a pleasure to work with such amazing people with amazing ideas.
---
To check out the rest of semillites' work, visit their website: www.semillitxs.com or follow them on Instagram @semillitxs.