Events
RACIAL EQUITY & JUSTICE IN PHILANTHROPY FUNDERS' SUMMIT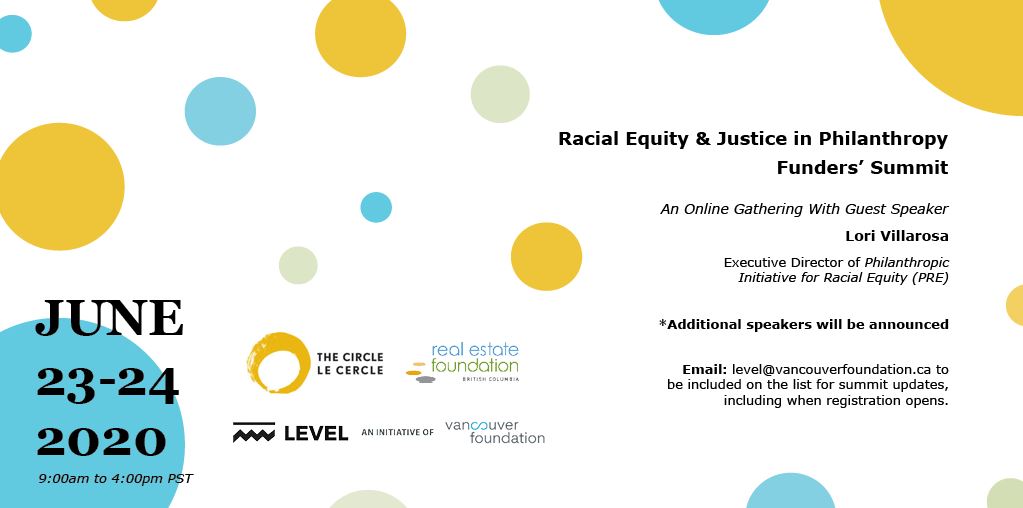 UPDATE: JUNE 19 – Registrations are now closed. We're grateful for the overwhelming response we've received about this event! Please follow us on social media as we explore how to share the critical learnings that unfold.
Join LEVEL and The Circle on Philanthropy and Aboriginal Peoples in Canada and Real Estate Foundation of BC for a two-day virtual summit that will bring together funders and communities interested in learning more about racial equity and justice work in philanthropy. You'll hear from guest speakers like Lori Villarosa, Executive Director of Philanthropic Initiative for Racial Equity, who will share insights on:
The current context and needs of racial equity and racial justice funding in British Columbia and Canada more broadly;
Lessons we may want to share with one another to build a network of Canadian philanthropic organizations in order to move a racial justice agenda forward;
Lessons gleaned from U.S. philanthropy's grantmaking work in racial equity and justice; and
Exploration of opportunities to help strengthen ties between the racial equity and justice movements in Canada and the U.S.