Yaimel López Zaldívar is one of two illustrators we were lucky to work with on the cover pages of the Youth Policy Program project covers. Inspired by his home country of Cuba, his work is characterized by bold colours and imagery—a style fitting for capturing the richness of the participants' projects.
Yaimel immigrated to Canada a year and a half ago and over the last while, his style of art has evolved to also reflect his life in Canada. While his work will always be rooted in Cuban culture, the intersecting experiences of Cuban and Canadian life has enabled him to explore and expand his approach to art.
"In Cuban culture, we have bold backgrounds, but I've been finding new ways to express myself and my work. But the way I create an image and think about an image comes from Cuban culture," he explains. "Coming from Cuba to Canada, my work is very unique because the cultures are very different. Sometimes people don't get my work, or it engages people because it's different."
It was this unique intersection that inspired LEVEL to work with Yaimel. His intentional use of symbols and imagery, and his lived experience as a migrant brought so much depth and meaning to the illustrations.
When asked to share his process for a particular image, he reflected on the illustration he created for Trisha Barbarona's project titled: Protecting Citizens: The Canadian Response to the Anti-Terror Law in the Philippines.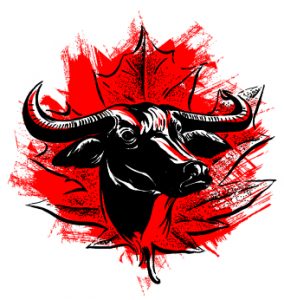 He reflects: "I didn't know what was going on in the Philippines and when I read the project and how [Trisha] described it, I was so surprised, and I started to read more about it. I chose to draw a 'carabao' or 'kalabaw' (a tamed type of water buffalo) on a maple leaf. The carabao is the national animal of the Philippines and in this illustration, represents the idea of resistance. In conversation with Trisha, they really liked how I weaved their Filipinx Canadian identity, and conveyed the contributions of the Filipinx community to Canadian identity and the role and responsibilities that the Canadian government has in protecting and standing up for the rights of the Filipinx community here and in their homeland."
For Yaimel, art is critical. It's his voice, his identity, and an expression of his worldview. "I need to create. It helps me balance my interior energy. It's something I need to do."
He closed our conversation with a reflection on his experience working with the YPP participants, sharing: "When I went to the presentations for the policy project, I was surprised to see those young people and how they defended their [policy projects]. It really compliments my approach to my work. I hadn't met them before until the presentations and those young people are pretty awesome. They can lead those movements – it's what they're doing; they're pushing to change things. I was so impressed and I still am."
---
To check out the rest of Yaimel's work, visit his website: https://yaimel.com/ or follow him on Instagram @yaimel1983 or Facebook /yaimel.lopez.