May was marked by Asian Heritage Month. Often a time of celebration, it's also complicated by 29 cases of anti-Asian hate crimes in Vancouver since the COVID-19 pandemic hit the province in March.
We spoke with two of our LEVEL Youth Policy Program participants about their experiences as self-identified Asian people during this time, and the futures they hope to create. This interview is with Julia Chai. She wrote a policy proposal for better accessibility and healthcare for racialized immigrants in Canada.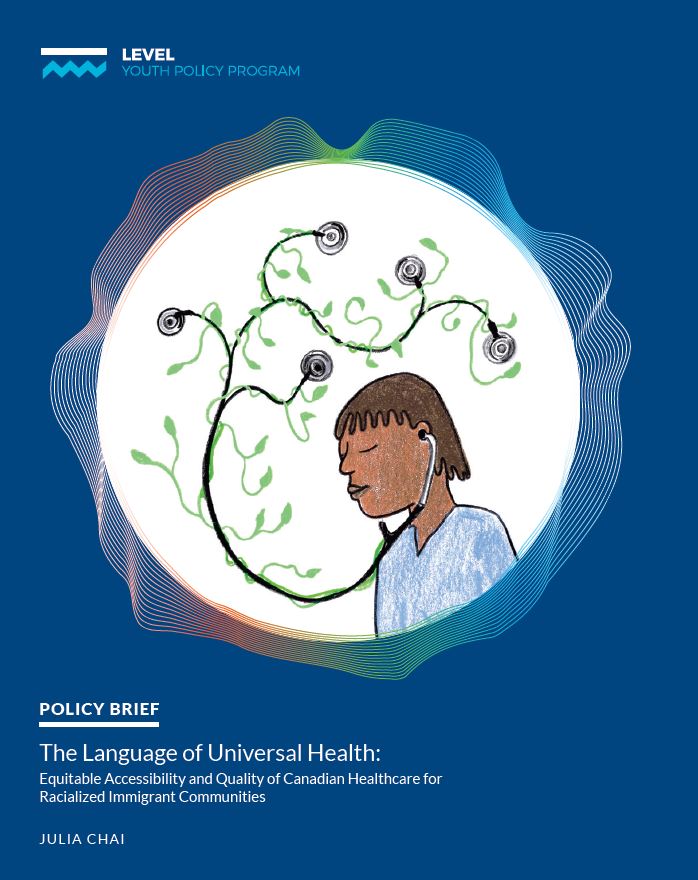 Julia has a B.Sc in Integrated Sciences in Medical Genetics & Physiology from UBC, and will be pursuing her Doctor of Medicine (MD) degree. As a student advocate, Julia has been working to break barriers in equity and accessibility of education, pushing for greater diversity, representation, and inclusion in practices and policies of the university institution.
LEVEL: Julia, tell us what drives your interest in public policy. What do you hope to get out of the LEVEL Youth Public Policy program?
JC: Over time, I've come to notice a stark lack of representation and inclusion of voices across decision-making tables and who we see representing us on the issues that directly matter to youth and under-represented communities.
I've become driven to be an advocate for my communities because of the lack of representation in the creation of the policies that govern us isolate certain groups. Embedding and ensuring equity and advocacy of under-represented groups in the drafting and review of public policy is critical to its sustainability and success.
There are also so many issues that are important to youth, but it can be confusing to first navigate the different structures of power, politics, and bureaucracy that exist.
LEVEL: Asian Heritage Month happened in May. What was it like to reflect on your identity during this month, with the COVID-19 pandemic in the foreground?
JC: This month was a particularly difficult one. It has been disappointing and hurtful to see and experience the growing number of attacks and hate against people who are visibly Asian in correlation to the COVID-19 crisis. In the time of a global pandemic, community and solidarity should be used as a method of healing and support. Instead, division and ostracization of Asian and other BIPOC (Black, Indigenous, People of Colour) communities has been a rising reflex and intended choice made by certain communities.
It has been difficult to cope with and remain proud of my Asian heritage when it seems that much of the world has been improperly and blindly placing blame on communities and people of Asian heritage.
Additionally, being an Asian settler on unceded Coast Salish territories, the current climate only further reflects the importance of showing solidarity and support for Indigenous communities as allies. I have a responsibility to actively empathize, understand, and show solidarity to Indigenous communities and perspectives, and when given opportunities to advocate for others, to also lend power of voice to Indigenous and other racialized (and under-represented) communities.
LEVEL: In your words, why does it matter to have young people's voices around the table?
JC: The lack of representation of Indigenous and racialized folks in higher decision-making bodies only continues the cycle of policies that consistently fail to serve and account for Indigenous and racialized communities. Oftentimes, procedures of policy-making and decision-making fail to account for and consult affected communities, especially Indigenous communities. Even when consulted, many of their concerns are ignored or considered a lower priority. This is unacceptable, and yet it continues to happen on a daily basis and has been difficult to penetrate without proper representation.
It is even more critical to have young people actively present at the table as we are often dismissed from the decision-making process. As such, It can be difficult to navigate the bureaucracy that comes with policy-making. Increasing opportunities for young people to learn more about public policy provides us the tools to carry out the concerns we advocate for in our communities.
LEVEL: What are the issues you want to see systemic change in?
JC: I want to see systemic change in many dynamics of oppression, but especially accessibility to healthcare and social determinants of health that most impact under-represented groups. Many systems of healthcare are still limited in equitably serving certain communities.
For instance, services for sexual health and other healthcare services for 2SLGBTQIA+ folks are still limited in intersectionality and understanding of their lived experiences. Not only do we need greater representation of 2SLGBTQIA+ folks in the healthcare profession, there needs to be greater intersectional and equity-based education and training for future healthcare professionals to amplify their understanding of under-represented groups.,
For example, one area of healthcare that would benefit from this is postpartum and maternal health. Emotional and social supports for postpartum health are often culturally charged and the understanding of postpartum health varies by culture.
***
Please follow along with #YPP2020 and our participants by: