Last year, the LEVEL Youth Policy Program cohort travelled to Victoria for the fourth module on Canadian Government and Indigenous Governance. During this module, participants learn firsthand from elected officials, gaining insights and feedback on their policy work thus far while learning the diverse governance structures in British Columbia. 
 While in Victoria, participants shared lunch with elected officials, engaging in conversations about policy and advocacy, and connecting with leaders in the Green Party. Fast forward to this May, we were invited back to Victoria on May 8th and 9th by Sonia Furstenau and Adam Olsen, who hosted an opportunity for the YPP alumni to shadow them for a day at the legislature, giving them a perspective on how to navigate the dynamic landscape of policy. 
 Both days provided a unique learning experience and on May 9th, Wei Chun Kua, a 2022 YPP alum attended the legislature and wrote this reflection to share his experience with us.   
 I had the opportunity to shadow the BC Green Caucus for a day through the LEVEL Youth Policy Program, and it was important for me to center and align this experience in a decolonized way. Heading into a colonial space, having Jessica Joseph from the Songhees Nation welcome us to the land of the lək̓ʷəŋən peoples with a smudging ceremony was a healing and grounding way to start the day.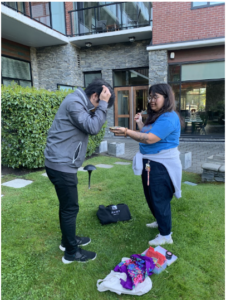 The most memorable part of the experience was witnessing the passing of the Haida Nation Recognition Act. The BC Legislative Building, like many colonial government institutions, is an alienating place to be for many marginalized and racialized people like me; a stateless migrant, but especially so for Indigenous Peoples. Buildings like this are a physical manifestation of colonial oppression and history. What I had the privilege of witnessing in that building set a new historical precedent for the Haida Nation. Not only did the Haida Nation get the Crown to formally recognize their inherent rights to self-governance and self-determination after two decades of work, but their presence on the chamber floor forewent all the formalities and professionalism that dehumanizes the human presence while participating in a legislative session. From the drumming and songs of their ancestors filling the whole chamber room to a mom breastfeeding her baby, to everyone standing up and clapping in celebration, these are things you would not usually see during a normal legislative session. It humanized and decolonized the space with joy, marking a great victory for Indigenous self-determination and sovereignty. One that shifted an existing narrative and told a new tale, that anyone can be and belong in this chamber, a place where decisions are made, and laws are passed that impact the people living on the territories now known as British Columbia. 
 In 2022, I wrote my final policy project, Status for All, which calls on the federal government to develop immigration policies that provide a clear pathway to receive Permanent Residence in Canada. Although this opportunity didn't directly help in advancing my policy project, it was still a valuable experience to shadow the BC Green Caucus and get an insight into their day-to-day. Sonia Furstenau and Adam Olsen surround themselves with an amazing team of genuine and caring people that made the experience nothing but welcoming, encouraging, and humanizing. There wasn't a moment during this experience where I felt intimidated, or like I didn't belong, which can be a normal feeling I have in spaces of power and privilege.  
 YPP and the people who run it have always put my needs, well-being, and growth at the center of any experience I'm part of, and this opportunity was no different. If you are looking to learn about policy writing and how to advance them, YPP is a safe and welcoming space for any racialized and immigrant youth of any level and experience to do so.