LEVEL had a busy year in 2019 – from launching and completing our first Youth Policy Program to delivering grants for those looking to advance racial equity. In this post, we take you through some highlights and learnings that we were lucky enough to experience.
LEVEL's inaugural Youth Policy Program (YPP) started the year off with 16 amazing Indigenous and racialized immigrant and refugee youth from across BC. Once a month, over the course of six months, they gathered together on unceded Coast Salish territories to learn,  share, and build community while learning how to effect policymaking. They learned from inspiring faculty and mentors on how to advocate for issues closest to their hearts – a belief borne into YPP's principles that youth know best on what is needed in their communities.
Our learning journey with the YPP youth culminated with the YPP Policy Presentations Day at the Sun-Yat Sen Classical Gardens in Chinatown where youth shared their final policy projects with friends and family in the audience. Among the

highlights were seeing our amazing participants, mentors, and faculty all come together in one space to share the importance of amplifying the work of, and signaling the need for more policymaking from diverse, distinct life experiences of those often marginalized.
We also heard from keynote speakers: activist Desmond Cole and LEVEL advisory committee member and Indigenous leader Jess Housty, who both spoke eloquently from their personal situated experiences as Black and Indigenous peoples, about the tyranny of oppression, and what liberation can and should look like for communities of colour.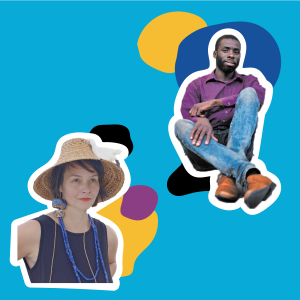 Since its inception, LEVEL's amazing advisory committee, made up entirely of Indigenous and racialized immigrant and refugee youth and adult allies, has helped guide recommendations for grants by situating lived experiences of these communities at the decision-making table. Over the course of the year, we have had many opportunities to work with and highlight the work that our incredible advisors do. One of these opportunities came at the Community Foundations of Canada conference plenary session, titled "Real Talk and Fresh Voices: Emerging leaders reflect on power, giving and the future of philanthropy" where LEVEL advisor John Michael Koffi was invited to talk about his experience serving on the LEVEL committee and his reflections on power and how to move forward making better decisions for youth in community, with youth.
In our second year of granting, we were overwhelmed with great applications from organizations that are beginning to think of racial equity and undertaking this work in their communities. In 2019, we were able to award 12 Develop and Test grants, totaling more than $470,000. Organizations that have received funding include Fraser Region Aboriginal Friendship Centre Association (FRAFCA), DIVERSEcity Community Resources Society, Surrounded By Cedar Child and Family Services Society, and many more. Each of their projects is aligned with advancing racial equity for Indigenous and/or racialized immigrant and refugee youth with direct and clear pathways to leadership in the non-profit sector.
We also had a chance to visit and provide space for a Learning Day with the grantees from 2018. In keeping with a developmental evaluation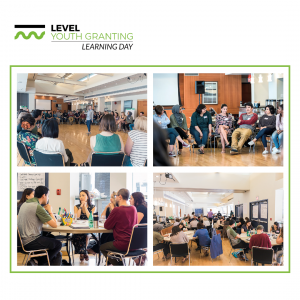 framework for LEVEL's work, we visited our grantees in their communities, and grounded our conversations and questions in the realities of their daily lived experiences. Our 2018 LEVEL grantees were then invited for a Learning Day to come together, connect and convene on what we are all learning about racial equity, sharing strategies and best practices as we work and learn in this realm.
Throughout the year, LEVEL was also invited to different opportunities where we could support important conversations around racial equity such as Ann Hui's book launch for Chop Suey Nation, in partnership with hua foundation; the Edgar Villanueva's Decolonizing Wealth Vancouver book tour in partnership with The Circle on Philanthropy and Aboriginal Peoples in Canada; panels and workshops at the Women Deliver conference, including participation from our YPP youth; an event called Advancing Inclusion in Governance in collaboration with OnBoard Canada; and lastly, supporting the Red Women Rising report produced by the Downtown Eastside Women's Centre (DEWC).
As we move our work into 2020, our team is thinking a lot about how we move into this work with humility and a commitment to keep learning and being open to different concepts, ideas, and frameworks. As advocates of learning in plain sight, we want to hear what we can do better this year, any learnings we can incorporate and ways that we can move in the world. We invite you to have an ongoing conversation with us, on our various social media platforms (Twitter, Facebook, Instagram) and in other ways to help us do this work better.
---
Follow the hashtag #YPP2019 to see more from our journey with the 2019 YPP cohort and insights from the LEVEL community. You can also follow #YPP2020 to see more of what's to come with this year's cohort.